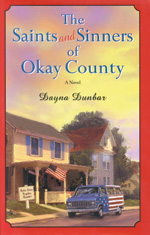 Voters Select
The Saints and Sinners of Okay County as the 2006 Oklahoma Reads Oklahoma Book
Find out more about the book.
Read the Press Release from the November 23, 2005 announcement. Stay tuned for the Discussion Guide and other materials and news related to the book.
Meet Dayna Dunbar this holiday season! Dayna will be appearing at two book signings, just in time for your holiday gift-giving. It's a great time to meet her, pick up a copy of the book, and get primed for next year's author tour. If you're in the Oklahoma City area, check out these events:
Saturday, December 17
3:00 p.m.
Barnes and Noble
6100 N. May Avenue
Oklahoma City
Friday, December 23
3:00 p.m.
Full Circle Bookstore
50 Penn Place
Oklahoma City
Oklahoma Reads Oklahoma is an official Oklahoma Centennial Project. Find out about the Oklahoma Centennial Commission.
Hey! I'm new to this site. What's this all about?
Oklahoma marks its centennial of statehood in 2007 and you can help plan the celebration! Oklahoma Reads Oklahoma is a unique opportunity for citizens to read and discuss books that explore the Oklahoma experience.
Each year, Oklahomans will select one book for a statewide reading and discussion program. Citizens will use this site to learn about the six finalists each year and vote for their favorite. Our online voting booth will be open each September and October to select the title for the following year.
The winning selection for 2004 was The Honk and Holler Opening Soon by Billie Letts. The Oklahoma Reads Oklahoma Book for 2005 was Walking the Choctaw Road: Stories from Red People Memory by Tim Tingle.
Check back at this site for discussion guides, program ideas, and other activities related to each year's book.
The countdown to the Oklahoma Centennial continues. Dive in and "Read Oklahoma!"
Download the most recent FAQ/Six-Pack flyer in PDF format
Meet the Oklahoma Reads Oklahoma Sponsors